The legendary casino brand Horseshoe comes on the Las Vegas Strip!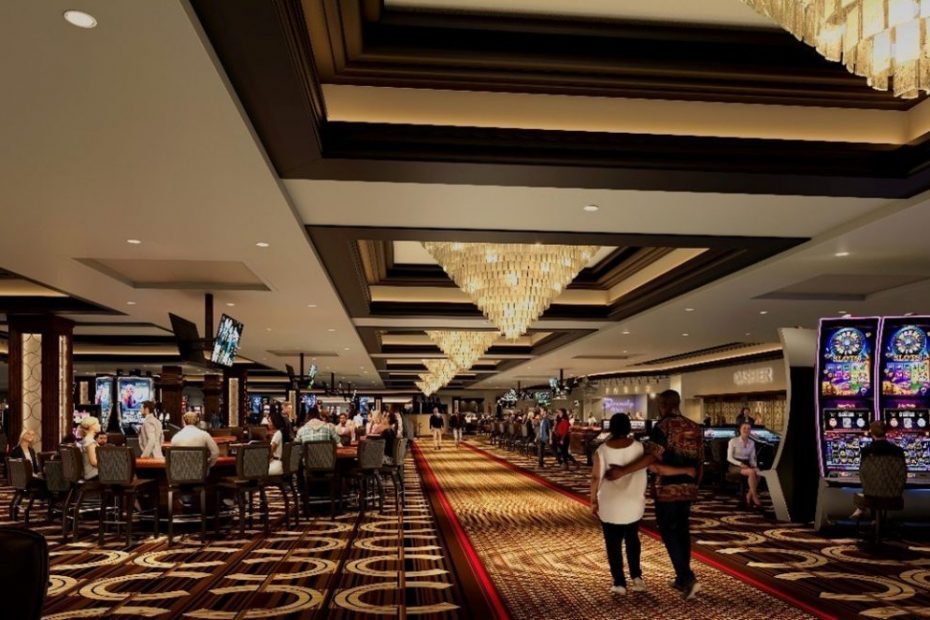 The Bally's Las Vegas is to be redesigned from spring 2022 and the World Series of Poker will return to their roots with a strip debut in the new Horseshoe Las Vegas in summer 2022.
The redesign is intended to include a renovated external, new entertainment, dining and drinks and drink offers as well as a completely redesigned casino floor.
In the classic style of Horseshoe, the design team is to create a handmade look with edited leather, strong colors and the characteristic golden horseshoe of the brand. Further details will be announced in the course of the development.
At Horseshoe everything revolves around the player
"Since 1951, Horseshoe Casinos have been home to the best quotas, the highest limits and the biggest jackpots. It is therefore fitting that we bring Horseshoe back to Las Vegas and directly onto the Las Vegas Strip. ", said Jason Gregorec, SVP and General Manager. "We stick to the Horseshoe tradition to offer impeccable service, and our guests will see how the casino changes over time …"
The Horseshoe Las Vegas, which takes one of the most coveted locations in the Gambling area, will be on the 50-yard line of the Las Vegas Strip on the corner of Flamingo Road. The investment of several million dollars is the youngest in a number of new concepts for the famous Caesar's entertainment resorts in Las Vegas, including a new entrance to Caesars Palace, investments of several million dollars in the casino floors in all companies as well as incredible partnerships with world-class entertainers and restaurateurs.
"By bringing the Horseshoe brand back to life in Las Vegas, we can celebrate both our history and our future", said Sean Mcburney, Regional President of Caesars Entertainment. "In 2022, a new era for the Caesar's entertainment empire in Las Vegas begins, which is heralded by the return of Horseshoe."
Die WSOP – Back to the Roots
As early as the summer of 2022, the World Series of Poker is to return to its roots after taking place in Las Vegas for the first time in 1970 in the original Horseshoe in Las Vegas.
"We could hardly be more excited to see the World Series of Poker returned to the Horseshoe ", said Ty Stewart, SVP and Executive Director of the World Series of Poker. "Horseshoe is the place where everything started for the WSOP. It has always been a brand for lucky and card players. Since we move the WSOP to the Las Vegas Strip for the first time, it is incredibly special that it will take place in the Horseshoe. "
The 53rd annual World Series of Poker will take place on the strip from May 31 to July 19, 2022, i.e. exactly at the time when the conversion begins.
The transformation to Horseshoe Las Vegas should be completed by the end of 2022.
QUELLE Caesars Entertainment, Inc.
Offerer
Bonus
Quick Facts
SPIELEN
20 free spins without a deposit!
Bonus package of up to $ 250 + 120 free spins

Game: Slots, Mercury Slots
License: Mga
Bonus conditions: 25x

Play Now
100% to $ 500 + 200 free spins

Game: Slots, jackpot slots, table games, live casino, sports betting
License: Curacao
Bonus conditions: 30x

Play Now
200% up to $ 100 + 500 free spins

Game: Slots, jackpot slots, table games, live casino, sports betting
License: Curacao
Bonus conditions: 40x

Play Now
Up to 1000 $ + 100 free spins

Game: Slots, jackpot slots, table games, live casino, sports betting
License: Curacao
Bonus conditions: 50x

Play Now
🔥 150% to 300 $ + 50 free spins - bonus code: STOFF150
Bonus package of up to $ 1000 + 150 free spins

Game: Slots, Jackpots, Live Casino
License: Curacao
Bonus conditions: -

Play Now
Bonus package of up to $ 1000 + 100 free spins

Game: Slots, Jackpot Slots, Casino Spiele, Live Casino
License: Curacao
Bonus conditions: 25x

Play Now
100% up to $ 700

Game: Slots, jackpot slots, table games, live casino, sports betting
License: Curacao
Bonus conditions: x45

Play Now
20 free spins without a deposit
100% up to $ 250 + 100 free spins

Game: Slots
License: Mga
Bonus conditions: 30x

Play Now
🔥 150% to $ 300 + 50 free spins - bonus code: Immediate 1550
Bonus package up to $ 1,000 + 125 free spins

Game: Slots, jackpot slots, table games, live casino
License: Curacao
Bonus conditions: -

Play Now
🔥 150% to $ 300 + 50 free spins - bonus code: Immediate 1550
Bonus package of up to $ 1000 + 125 free spins

Game: Slots, Jackpots, Live Casino
License: Curacao
Bonus conditions: -

Play Now